Brent Matheson has been involved with swimming for over 35 years. For the past 10 years he has coached the senior level athletes at Eastern Express. During that time he has developed swimmers who have qualified for and competed at USA Swimming's Junior and Senior National Championships, as well as the 2008 and 2012 US Olympic Trials. He has coached swimmers who have placed in USA Swimming's Top 16 National Rankings and swimmers who have broken NJ Swimming LSC Records. In the fall of 2005, Brent was a coach participant in USA Swimming's National Select Camp conducted at the Olympic Training Center in Colorado Springs, Colorado. He has twice been recognized by the American Swim Coaches' Association as a "Coach of Excellence" for having a swimmer compete in a USA Swimming Senior National "A" final. Every year, Brent assists Eastern Express swimmers in the college recruiting process and has helped place numerous swimmers in Division I, II and III colleges all over the country. Since 2012, Brent has also been an on-deck volunteer assistant coach with the Princeton University Women's Swim Team.

Before Express, Brent was an assistant coach at his alma mater and local prep school swimming powerhouse, Peddie Aquatic Association. As a swimmer at Peddie, he was a prep school All-American, Team Captain and Eastern Interscholastic Swimming Champion in the 100 fly and 200 medley relay. He continued his swimming career as a scholarship athlete at Penn State, where he was an NCAA Division I Championships qualifier his senior year. As an age-grouper with Princeton Aquatics Association and then Peddie Aquatics Association, Brent was a National Age Group Top 16 ranked butterflyer and New Jersey State Record-Holder. He continues to swim today as a long time member of Princeton Area Masters and has been ranked top 10 both nationally and in the world as a US Masters swimmer. In addition to his competitive coaching duties, Brent owns and operates an American Swim Coaches Association certified SwimAmerica learn to swim program.

Brent is a former trial attorney, having served several years as a criminal prosecutor. He lives with his wife and their three children in Skillman, NJ.
Coach Tiny Randazzo has been involved with the sport of swimming in New Jersey for more than four decades. Her coaching career began on the deck of Nomahegan Swim Club during her college years. With a degree in Elementary Education, coaching became her lifetime passion. Over the years, numerous programs have benefited from her expertise including: Central Jersey Aquatic Club, Somerset Hills YMCA, Fanwood Scotch Plains YMCA, Scotch Plains-Fanwood High School (coached the first Co-Ed team), Rutgers University, Princeton University and Princeton Tigers Aquatic Club. Tiny has also served the New Jersey Swimming Board of Directors in the capacity of Records Chair, Top 10 Chair, Senior Coaches Chair, At Large delegate and Secretary.

Swimming her entire career under the direction of former Olympic coach, Frank Elm, Tiny started with Frank at the Summit YMCA at the age of seven. Over the span of 15 years, she represented Elm as a member of the Scarlet Jets, Central Jersey Aquatic Club and Rutgers University. She attended the 1972 Olympic Trials in the 100 meter backstroke before representing Westfield High School her senior year as the first female on an all male squad. Benefiting from Title IX, Tiny went on to swim with the Rutgers Men's swimming and diving team in 1974 alongside female Olympian, Judy Melick. Her sophomore year, the first year of the Rutgers Women's team, was the beginning of a trio of undefeated seasons. A five-time Eastern AIAW champion, she earned All-America honors in five events, including both the 50 and 100 back. Her achievements were recognized by the New Jersey General Assembly in 1977, and she was inducted into the Rutgers Sports Hall of Fame in 1997.
Coach Jennifer began coaching in New Jersey in the fall of 2005, coaching all levels of swimmers, working primarily with the 11-12s at Peddie Aquatics before joining Eastern Express in Fall 2011. Before coming to New Jersey, Jennifer coached two top five teams in the Greensboro Community Swim Association summer league in North Carolina from 1998-2005.
Jennifer graduated from Campbell University in 2003, B. A. in Government, and again in 2004, Masters of Business Administration. During her last year at Campbell, Jennifer was an assistant coach for the first year of the varsity Women's Swim Team. Jennifer came to New Jersey to pursue a Masters degree in City and Regional Planning from Rutgers University (May 2007) and currently works for the NJ Department of Environmental Protection. She resides in Lawrence, NJ, with her husband Anthony and son Donovan.
A long, long, LONG time ago in a galaxy far, far, far (well 8 hour car ride anyway) Coach Craig Haywood began his swimming career – in a little development called Pinegate – being chased by a T-Rex (yes there are days that I feel that old) – he had no choice but to jump into a pond and begin to swim away from the dinosaur – only problem with that was that coach Haywood had no idea how to swim – but somehow made it. I was born in Philadelphia and lived in the area until I was in 4th grade and then my dad got transferred to Cleveland where I spent the next 24 years of my life. I am a high school teacher – I work at Princeton High School. I teach Computer Graphics and Computer Networking. I also taught at Ashtabula Harbor High School (no longer there – it was demolished and a new school was built) and Euclid High School. I am a father of three outstanding children – Ashlee, Hailee, and Jayson.
I began swimming back in 1980 for a tiny team called Pinegate – then swam for my local YMCA – (Lake County YMCA in Painesville Ohio), swam for Lake Erie Silver Dolphins, and helped start and swim for my high school – Mentor High School. I was unable to continue swimming in college due to knee injuries – and the fact that I was too slow to swim for any college – but I like to tell people that it was really the knee injuries. I began my coaching career at 17 as a volunteer/helper at Pinegate and then was hired the following year as a regular assistant coach at the age of 18 and have been coaching ever since. I have coached for Pinegate, Highland Heights, Wembly Country Club, Mentor High School, Kenston High School, Chagrin Falls High School, Cleveland Heights High School, Lake Erie Silver Dolphins, Solon Stars, Team Viking, Richard Quick Swim Camp, Princeton High School, X-Cel, and now have found my way to Eastern Express.
I have really enjoyed my time at EEX to this point as we have a tremendous coaching staff with a lot of experience, and EEX really fits my personality well. I am looking forward to a long and enjoyable career with EEX. I bring a lot of knowledge and experience about the sport with me and have had the opportunity throughout my career of working with some of the best coaches in the country and I bring all this with me to Eastern Express. One of my swimming philosophies is no matter if you swim well in a meet or have an off meet – the most important thing is to always walk away from a meet learning something that will help to improve your race the next time.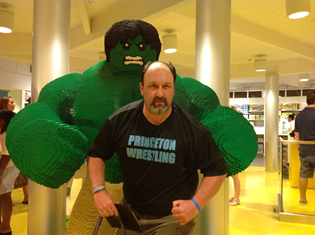 Coach Dana has been involved with swimming, both in and out of the water, for over 35 years. She has been a member of USA and NJ swimming since 2008. For the past 9 years Dana has been coaching with the Lawrence Lightning Swim Team and Pennington Aquatics. She also teaches a competitive Stroke & Turn Clinic at the Lawrenceville Swimming Association. Dana began coaching at Eastern Express in the fall of 2014 and primarily works with the teams youngest swimmers to develop their competitive stroke technique. She continues to share her time coaching all 3 teams.

Dana began her competitive career at age 8 swimming for the Ridgewood YMCA. She continued swimming for various USA teams in both Pennsylvania and New Jersey, including the first official season of Eastern Express in 1987-88. Focusing primarily on the 100 & 200 breaststroke Dana swam on the varsity teams at Pennsbury High School and Syracuse University. Dana continues to swim today as part of her triathlon and marathon training.

Coach Dana lives in Lawrenceville with her husband Eric and 3 children Devon, Eliza and Isabelle.
Adam Schneider began competitively swimming at age 5. He swam for the Hurricanes and later the Camden County YMCA (Now SJAC). At SJAC. Adam was a YMCA National Individual Qualifer multiple times and was part of several Top 8 Relay finishes for his team.
Adam attended college at TCNJ. Adam was a 14 time NCAA All American, team captain and is still the TCNJ Program record holder in the 50yard freestyle. Adam has coached all ages of club swimmers, including Masters at GPAC. Last year, Adam was the Assistant Men's Swim Coach at TCNJ, and he will continue in this capacity for 2015-2016. Adam believes in pushing athletes' minds and bodies to their full potential as well as keeping a light mood at practice that allows freedom for swimmers to learn and have fun at the same time.